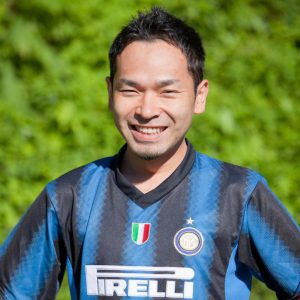 ムッチー鈴木
【プロフィール】
プロ野球国歌斉唱や海外アーティストのコーラスを行う音楽ユニットVOXRAYに所属し、
2014年Fリーグ公式ソングを担当。ラジオDJや司会業、長友選手のそっくりさんなどで
各イベントに出没!
JFL→なでしこリーグMCを経て現在はJ3「YSCC」、Bリーグ「福島Firebonds」、FリーグセントラルMCを担当している。
Singer, sports commentator, host(radio,events)
Joined 'VOXRAY'in 2004, a Japanese vocal group, whose activities range from singing at various events and concerts to reaching out to children in need by regularly visiting orphanages and foster homes.
Being a sports commentator and a host himself, Voxray are often invited to perform at J-league(soccer), F-league(futsal), B-league(basketball), and the Japanese baseball leaguge where they sing 'Japanese national anthem' for Tohoku Rakuten Golden Eagles.
Aside from singing and hosting events, he appears at events / on TV as Nagatomo impersonator (Japanese soccer player, Inter Milan).
「Summertime Blues」
「Arigato」
「Visit to orphanages, foster homes」